The Burren & Cliffs of Moher Geopark App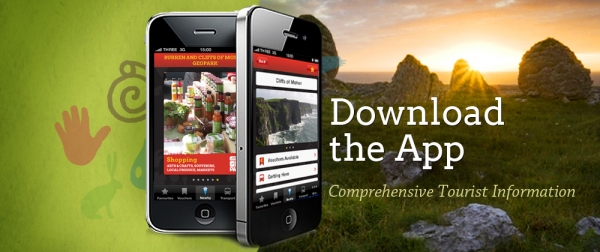 Download it NOW for iphone and android
Information on the App:
• Public Transport – Bus Routes, Taxi Services, Bicycle Hire, Car Pooling
• Things to Do – Attractions and Activities for everyone to do in the Burren
• Places to Eat –  All places to eat and drink inc. Cafes, Pubs, Restaurants
• Places to Stay – Hotels, Self Catering, Campsites, Hostels and Guesthouses
• Craft and Local produce – Crafts and Markets
• What's On – Annual Music, Crafts, Festivals and Event Guide
• Emergency & Local Services – Doctors, Parking, Chemists, Churches and more
and also includes;
• Mapping and directions
• Journey Planner
• Filtering of information to quickly see content that's relevant to you
• Exclusive vouchers
Members of Burren Ecotourism have a higher profile on the App and are also offering green travel intensives for visitors whilst travelling in the Burren in the form of vouchers.
The App is free and available on iPhone and Android. Download this App today and enjoy the beauty and attractions of the Burren and Cliffs of Moher Geopark!
Screen shots of the App